History of the USS LST-836
The USS LST-836 served the United States Navy in four wars: World War II, the Korean War, the Cold War atomic arms race, and the Vietnam War. She was later transferred to the Singapore Navy.
U. S. Government photograph
USS LST-836 underway. Note forward doors open, ready to receive amphibious vehicles.
World War II
Landing Ship Tank, LST-836 was laid down on 11 September 1944 at Ambridge, PA., by the American Bridge Company. She was launched on 29 October 1944 in time for duty in World War II. She was assigned to the Asiatic-Pacific theater where she served admirably, ferrying troops and equipment throughout the area of operations. She prepared to do battle in the Marshalls and Carolines until she departed for Okinawa on 12 April 1945. The battle for Okinawa was well underway when she arrived to unload troops and equipment. She returned to Ulithi Island on 29 April where she continued to shuttle troops and equipment throughout the Asiatic-Pacific operating theater. She earned a battle star for her participation in the assault and occupation of Okinawa Gunto in April of 1945. After VJ day, LST 836 was assigned to support General McArthur's occupation forces in Japan. She returned to San Francisco, California on 19 January 1946 and remained on the West Coast for the remainder of this phase of her career. She was decommissioned at Vancouver, Washington and assigned to the Pacific Reserve Fleet on 25 July 1946.
LST-836 saw extensive service in the Korean War after being re-commissioned on 3 November 1950 at Bremerton, Washington. She arrived in Yokosuka, Japan on 28 March 1951 and began her service supporting the United Nations forces in their struggle to stop Communist aggression in South Korea. For over eight months, she ferried equipment, supplies, and troops between Japan and various Korean ports.
She returned briefly to San Diego, California in early 1952 where she underwent a minor overhaul. She departed 24 July for operations in the Marshall Islands in support of Operation Ivy. After her duties supporting the scientists in the Pacific Proving Grounds, she returned once again to San Diego, California for a brief rest. She sailed on 16 March 1953 to rejoin the still raging Korean War. She arrived in Yokosuka on 22 April, 1952 and immediately began cargo runs from the staging areas to Inchon, Korea.
After the bloody fighting came to an end in Korea, USS LST-836 stayed in the Far East, transporting cargo in support of UN peacekeeping forces stationed in Korea. She made three Western Pacific (WestPac) cruises and participated in training operations along the West Coast of the United States from 1954 through 1958..
She earned three battle stars during her time in the Korean War.
Operation IVY: Mike and King Shots
USS LST-836 joined Operation Ivy in August of 1952 being part of Task Group 132.31 (transport element). Operation Ivy was part of the United States Atmospheric Nuclear Weapons Tests conducted by the Department of Defense and the Defense Nuclear Agency.
U. S. Government photograph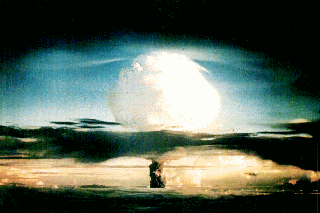 The results of 10.4 million pounds of TNT being detonated. The Mike Shot mushroom cloud appears over the crater that used to be Eluklab Island. The "dirty stem" is a result of the millions of pounds of "coral particles, debris, and water which were sucked high into the Ir." Observers as far away as thirty-five miles away felt the heat wave. The cloud exceeded 120,000 feet in height, "splashing against the tropopause".".

Two nuclear devices, designated Mike and King, were detonated at the Atomic Energy Commission's (AEC) Pacific Proving Ground (PPG) at Enewetak Atoll in the fall of 1952.

Mike was detonated on the surface on 1 November 1952 at Eluklab Island and yielded 10.4 Megatons. Mike was the first nuclear fusion device ever deployed. King followed on 16 November, 1952 and was an air burst at 1, 480 feet over the reef off of Runit Island. It yielded "only" 500 Kilotons and was the most powerful fission weapon ever detonated. One kiloton equals the approximate energy release of the explosion of one thousand tons of TNT. A megaton is the equivalent of one million tons of TNT.

Temporarily assigned to Commander Escort Destroyer Division 11, USS LST-836 operated in the forward area of IVY, arriving on 12 September 1952 with a compliment of 6 officers and 123 enlisted men. Designated Task Element/Unit 132.31.1, LST-836 was on independent duty at Bikini Atoll assisting construction during the Mike and King shot preparation. She primarily acted as a transport shuttle between Enewetak and Bikini atolls for the construction of Operation Castle facilities on Bikini.

In preparation for the Mike shot, all personnel were evacuated from Enewetak and Ujelang atolls. LST-836 was dispatched to Bikini Atoll to stand by and

The official history of the Naval Task Force supporting the Mike Shot states LST-836 was anchored at Bikini. She was there at 0715 on 1 November 1952 when Mike was detonated. This is in conflict with other references about Operation Ivy and LST-836.

evacuate task force personnel from the facility should the fallout from Mike become a problem. She was about 195 nautical miles (361 kilometers), bearing 93 degrees from the Mike shot when it was detonated. Mike produced a tremendous fireball followed by a gigantic mushroom cloud. The blast destroyed Eluklab Island, leaving a submerged crater about 6, 300 feet (1.9 km) in diameter and 160 feet (49 meters) deep. According to the official history of Operation Ivy, this hole was "large enough to hold 14 buildings the size of the Pentagon".

For King, LST-836 was positioned at Eneman Island, Bikini Atoll, again on standby should personnel evacuation be necessary. The King device arrived at 11:30 A. M.

USS LST-836 was reported to be "beached on the north side of Eneman Island in Bikini Lagoon for King Shot. She rolled up weather stations after the King Shot.

on November 16, 1952. It was detonated at approximately 1,480 feet (451 meters) above sea level over the target area (about 2, 000 feet to the North of Runit Island). It is noted that LST-836 "rolled up weather stations following King".

The official historian for Joint Task Force 132 states that the "King Shot was perhaps more spectacular in many respects than Mike Shot -- due, primarily, to the relatively close distance (approximately eleven miles) of observers to ground zero".

Radiation Safety Planning documents state that five radiation monitoring badges were assigned to LST-836, yet no personnel from the ship are mentioned in the Consolidated List. Pat Clyde remembers that no enlisted men had badges and stated that "If there were any, they must have been on officers."

The historian further reports that the poor soles designated as observers felt the heat wave generated by the blast almost immediately. They had a close up look of the "growth of the fireball, the development of the cloud-chamber effect, and the formation of the conventional mushroom-shaped cloud". Approximately 45 seconds after the detonation, the shock wave rolled over Parry Island, sounding like "a 90 mm gnu" going off next to the observers. The mushroom cloud that spread over what was left of the island was reported to have reached 67,000 feet with the base at 40,000 feet. It was seen as far away as Japan.

There is confusion about when USS LST-836 departed the PPG. In the narrative, the historian indicates that she departed on 21 November 1952. In a table following this narrative it is reported she left on 25 November 1952. A copy of the ships log indicates that the ship arrived Enewetok atoll on 21 November 1952 and later departed for Bikini for Ponape islands on 23 November. Her last port of call in the vicinity was on 30 November when she departed Majuro Atoll for Pearl Harbor, Hawaii, having visited Kausie Island in the interim.

Damage from KING was observed far to the North of surface zero at Lojwa. The islands brush was scorched, but not burning as was the brush far South on Jinedrol. The blast was so powerful that it displaced tons of sea water, some of which created puddles in the center of Runit.

USS LST-836 left the Pacific Proving Ground on 21 November 1952 and was released from Operational Control on 10 December 1952.

A Brief Peace

On July 1, 1955, LST-836 was re-designated USS HOLMES COUNTY (LST-836) after counties in Florida, Mississippi, and Ohio.

USS Holmes County (LST-836) was overhauled in the late 1950's. From 1959 through 1964, Holmes County participated in amphibious training in the Pacific as a member of the Pacific Amphibious Force. She primarily operated along the West Coast of the United States and the Hawaiian Island chain.

The Holmes County was back in action starting in 1965, performing combat service during the Vietnam War. She departed her base of operations in San Diego on 11 October 1965 and steamed for Southeast Asia. She arrived in Danang in the Republic of South Vietnam on 22 November 1965.

The National Archives & Records Administration (NARA) has at least two films from the Vietnam era (1961, 1966) that feature or were produced by the USS Holmes County, LST-836. Please visit the NARA/NAIL site and use their form to search. Perform a keyword search using the term LST-836 to see the list and to view detail on each film.

She operated there until 1966 when on 29 March, after 89 days in the combat zone, she steamed for Yokosuka, Japan. The ship stayed in Japan undergoing upkeep, preparing for the 5,500 mile journey home to San Diego. As she departed, Holmes County received the following message from the Commander of the Seventh Fleet "SA you depart 7th Fleet Intra-Coastal Task Unit, be assured you leave behind an admiration for the extraordinary work you have done this cruise."

In less than three months of service in Southeast Asia, she earned an amazing twelve (12) battle stars and two Navy Unit Commendation awards.

Peace Again

USS Holmes County (LST-836) arrived in San Diego on 26 May 1966. She operated in the San Diego area for approximately four months, participating in one the largest peacetime operations ever conducted by the Pacific Fleet. Operation "Base Line" would be her last hurrah.

Decommissioned again in early 1971, Holmes County left the United States Navy to serve in the Singaporean Navy on 1 July 1971. She was renamed RS Endurance by Singapore. The Singapore Navy acquired four other former USN "County class LST ships after the Holmes County was acquired. The Singapore Navy has since decommissioned RS Endurance (LS201).

After more than three decades of service, LST-836 has finally earned the rest.